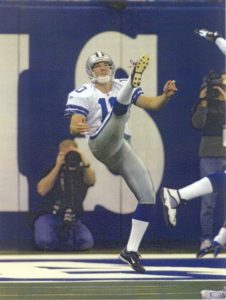 Filip Filipovic
OWNER/COACH
Coach Filipovic is the owner and the head coach of The Kicking Coach since 2007, coaching all levels of kickers from NFL pro bowl kickers to young kickers learning the fundamentals of kicking. He started kicking in 1993 and went from high school kicker to college kicker, to an NFL kicker. During his 25 years in the world of kicking, he made countless connections while working with legendary college and NFL coaches. Coaching kickers and punters is what he was born to do – growing up playing soccer and attending competitive tennis academies, kicking at all levels of football, and obtaining a degree in education. Coach Filipovic's coaching method is based on getting to know athletes and their tendencies, guiding them to become more efficient with their kicking and their training, and continue to push them until they become their best self.
"Not every kicker will reach the NFL. But the real tragedy is that many will give up on themselves long before they find that out. My job is to not let that happen. Real reward is not the NFL; it is the journey – the transformation that happens inside young athlete's mind when they relentlessly pursue a goal with confidence and consistency." Coach Filipovic

Resume:
1996 – Graduates Howland High School in Warren, OH
2002 – Graduates College from University of South Dakota
2002-2004 – Dallas Cowboys. Wins starting job in first year out of college
2004 – San Francisco 49ers
2005 – Minnesota Vikings
2006 – Houston Texans
2007 – Chicago Bears
KC Lopata
COACH
University of Michigan starting kicker. Graduated in 2010. KC has been an outstanding staff member since 2009. He brings with him Big 10 kicking experience and a degree in education. At our camps, you will hear KC's voice more than anyone else. He tirelessly encourages and coaches all kickers – regardless of how much or how little experience they have. He also runs his own kicking events in southeast Michigan.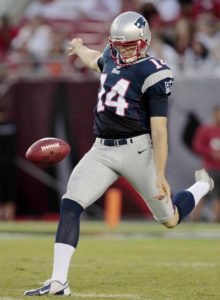 Zoltan Mesko
COACH
NFL Punter – Patriots, Steelers; University of Michigan. Finished 2011 NFL season 3rd in net punting average! Starting punter for New England as a rookie in 2010. First specialist drafted in 2010 NFL Draft. Top rated NFL punting prospect from 2010 college class. Very personable and smart athlete who has been helping the TKC camps since 2007. Watch Zoltan punt the ball out of the stadium in this spoof promotional video – http://www.youtube.com/watch?v=sUH6SEWNwk8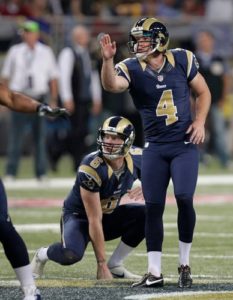 Greg Zuerlein
COACH
LA Rams; Missouri Western University. As a senior in college in 2011, Greg went 23/24 on field goals with 9/9 on field goals of over 50 yards! Arguably the best season that any college kicker has EVER had. Through his first 4 games in the NFL, Greg was 12/12 on field goals with long kicks of 60, 58 and 56 yards! Every year he ranks in the top 5 kickers in the NFL. Selected to Pro Bowl in 2017. Greg's practice video from one of our events – http://www.youtube.com/watch?v=iX3fS9HixSM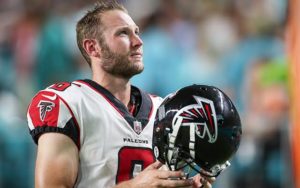 Mike Meyer
COACH
Titans, University of Iowa. We met Mike when he was a high school sophomore at the Illinois Winter Event in Pekin, IL. We watched him go from a soccer player with some potential to Division 1 walk-on, to a 4-year starter at the University of Iowa, and finally to an NFL kicker. Mike is a very humble and hard working individual who improved steadily throughout his whole kicking career.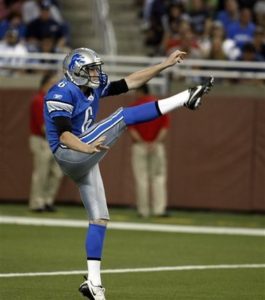 Ryan Donahue
COACH
NFL Punter – Detroit Lions. University of Iowa. Top rated college specialist from the 2011 college class (rated by Mel Kiper Jr.). Ray Guy Award finalist in 2011 (top college punter in the nation). Ryan has exceptional leg strength and mechanics. Finished high school career with 5 field goals over 50 yards which earned him the honor of being named to the 1st team USA TODAY All-American.