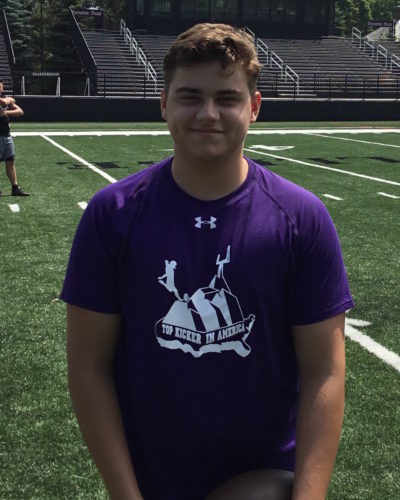 Class /
Position
High School
Last Evaluated
2020 Kicker
Providence Catholic HS, Illinois
July 2018
Damian is as "money" as it gets. He has been attending our kicking camps since 7th grade, always making almost all of his field goal attempts, and finishing at the top of his class. Top Kicker in America event in July 2018 was no different. Damian went 12/13 with long of 52, kicking off a 1/2 inch block. Every kick was hit cleanly – traveling high and straight. Kickoffs usually travel around 60-65 yards with hang times around 3.5 seconds.
Damian will kick in college. There is no doubt about that. Everyone loves a kicker who never misses. The big question is how much physically stronger will he get? If he packs on some muscle and adds yards to his kicks, he can go big time.