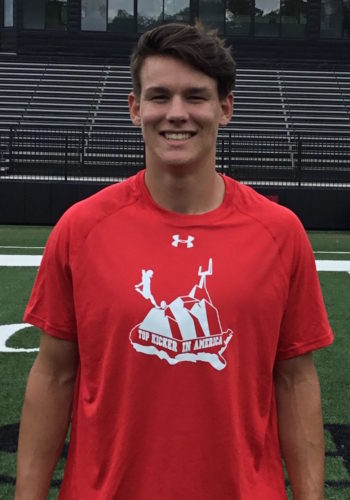 Class /
Position
High School
Last Evaluated
2019 Kicker/Punter
Ovid-Elsie HS, Elsie, Michigan
July 2018
COMMITTED TO MICHIGAN STATE UNIVERSITY
Evan shows an eye-opening power on his kicks. He attended our Michigan preseason kicking camp in August prior to his junior season. He averaged almost 70 yards per kickoff (no wind) and hit a 65 yard field goal off a 1-inch tee. His mechanics need work. But this 6'3″ soccer player is more powerful than any high school kicker that I have seen in years. Once he learns how to harness that power, sky is the limit.
Evan hit a 50 yard field goal as a junior in high school. He continues to improve as a roll out punter.
*Update 6/25/2018
Evan impressed at the Michigan State University kicking camp – putting kickoffs through the goal post from the 35-yard line. Head coach Dantonio took him to the stadium for a 1 on 1 tryout – kind of a big deal.
HUDL page – https://www.hudl.com/profile/5664180/Evan-Morris