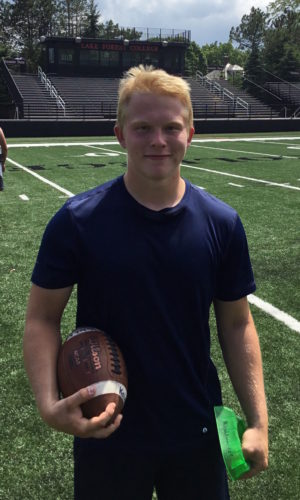 Class /
Position
High School
Last Evaluated
2020 Kicker
Petoskey High School, Michigan
July 2018
Kicker with a very fast leg snap. Kaleb was hitting kickoffs close to 60 yards as an 8th grader. Since then, he has added distance and hang time. He can hit field goals from 55+ yards off a 1-inch block. Most of his improvement will come from more practice reps and smoother mechanics. There is no doubt that 70 yard kickoffs and 60 yard field goals are just few months away.
*Update 9/17/2018. Kaleb had a monster game – 3 for 3 on FGs (32,32,41), 3 for 3 on extra points, and 6 touchbacks on kickoffs (many out of the end zone. This young man is hitting his stride early in his junior season. Newspaper Article HERE.