December 2018 to August 2019 Kicking Camp Results
At every kicking camp we evaluate kickers and punters through our standardized testing protocol.
Field Goals
Kickers attempt 10 field goals from different spots. Those who make 7 or more earn bonus kicks from farther distances.
Kickoffs
Kickers attempt 5 kickoffs. Only top 4 are used to calculate the kickoff average.
Punts
Punters attempt 12 punts total – 6 in each direction. Top 10 punts are used for average. Punting is charted only at outdoor events from May until August.
FIELD GOALS AND KICKOFFS
RESULTS
King of the mountain: Damian Chowaniec – 12/14, long 57 (off the ground). Damian has been attending our kicking camps since middle school. He has been perfect or near perfect every year.
King of the mountain: Logan Seibert – 12/13, long 52 (off the ground). Logan has been coming to our kicking camps since middle school. He finished at the top of his class last year.
King of the mountain: Emanuel Dieppa – Exceptionally smooth and consistent kicker from Michigan. "E-man" went 12 for 14 on field goals with a long of 49. He also averaged 56.25 yards on kickoffs.
King of the mountain at the moment: Emilio Duran  – 14/15, long 47. (1-inch block), 52.50 yards per kickoff. Emilio impressed staff and campers with his consistency, power and maturity. He performed exceptionally in all three skills. Big things are ahead for this young kicker.
PUNTS
Top Punting performer – Class of 2022 and older: Mitchell Tomasek – Class of 2021 Punter. Tall and smooth punter who turned over most punts in both direction. Most hang times are in 4.5 to 5.0 second range.
Top Punting performer – Class of 2023 and younger: Emilio Duran – Emilio showed excellent rhythm and ability to connect with the ball cleanly even when drop was not ideal. Averaging 34.1 yards per punt in middle school is very impressive.
______________________________________________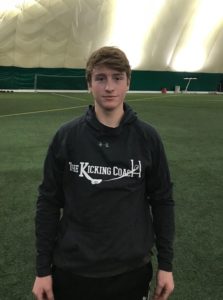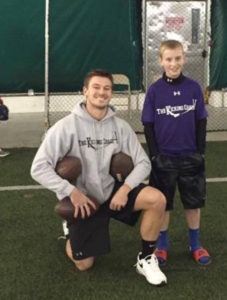 Logan Seibert; now and when we first met him. Logan is one of the top kickers in the country from the class of 2021. He first attended the Illinois Kicking Camp in Pekin as a 12-old, posing with NFL kicker Derek Dimke.