Are you ready to learn how to become a great kicker, earn a college scholarship, and make it to the NFL?
In other words, everything that you need to know about kicking or punting a football will be posted on this page. It will take a while for me to get all this information to you. And it will take a while for you to read it. So I will not try to deliver it all at once. And you should not try to consume it all in one sitting. I will keep adding information, videos, pictures, and links. You keep coming back and reading it.
The easiest way for me to share this vast amount of information is by answering the most common questions that I have been hearing from kickers, punters, and their parents.
For our Free Instructional Videos CLICK HERE . Watch various kicking and punting skills and drills explained and demonstrated.
Which kicking camp is the right one for me?
There are several different types of kicking camps that a kicker can attend:
College Kicking Camps
Showcase/Competition Kicking Camps
Instructional Kicking Camps
College Kicking Camps: These are hosted on college campuses by the colleges themselves – usually in the summer. Purpose of these camps is to evaluate prospects that the school is recruiting. You will experience little to no instruction. If you are going into your junior or your senior season of high school, and you have interest in the school hosting the camp, go. But if you are a high school sophomore or younger, there is no point in attending these unless you want to marvel at the facilities and get an free t-shirt (not really free since you will pay at least $120 to attend).
Showcase/Competition Kicking Camps: There are many private kicking organizations that run these sorts of kicking events. They are usually paired with some sort of a ranking system, website profile page, and college referrals. Similar to college kicking camps, there is very little instruction that takes place. You will chart and get evaluated multiple times. Parents and kickers should know that there are no college coaches at any private kicking camp. All the referrals are done through video, personal recommendation, email, profile pages, etc.
There is no need to attend these kicking events prior to your sophomore year. College coaches do not care who the highest ranked freshmen or sophomores are. If you want to attend these as a young kicker just for fun, there is not much harm that can come out of it. One thing that you should know about organizations that make their profit from rankings is that if you do not show up to several events per year, your ranking will drop, regardless of your skills. So be prepared to keep dumping money into it. With travel expenses, your annual cost will range between $2,000 to $10,000. My advice to kickers and parents who don't feel like wasting money is to…develop skills first (65-yard kickoffs, 50+ yard field goals, 45+ yard punts, good technique), and then start attending these in the summer before your junior year. Attend a few early on. And then increase frequency after your junior season – roughly around January.
Instructional Kicking Camps: These are kicking events where athletes attend to improve their skills. When deciding on which camp to attend, you should consider the size of the camp, the experience of coaches, camp quality (hard to know without experience or a reference), and proximity to the kicking coach. It is important to be close, or have easy access to your kicking coach because you will be navigating your kicking journey solo for the most part. A kicking coach has experience and perspective to guide you and answer any questions that you will have along the way. When I get an inquiry about coaching from the West coast or somewhere outside of Midwest, I usually advise a kicker to find a local kicking coach that will be able to provide year around coaching and support.
Most kickers make a mistake by focusing too much on competitions and not enough on their skill development – competition with themselves. In order to fulfill your kicking potential, you have to keep improving your kicking skills every time that you kick, all year around. Staying the same means that you are moving backwards in relation to your competitors who are improving (this is a saying that I heard from Roger Federer, one of the top tennis players in the world – short clip HERE).
What are the best shoes for kicking/punting?
Soccer cleats are the best for kicking and punting. Most college and pro kickers wear a leather soccer cleat that is simple in design. If you are only kicker or only a punter without having to play other positions, you could wear two different shoes. Plant foot shoe is usually a football cleat with good support and grip. Kicking foot shoe is tight fitting leather soccer cleat. Aim for 1.5 to 2.5 sizes smaller than your normal walking shoe.
If you play other positions, and you have to wear football cleats, choose a simple, low top shoe that is not too stiff.
Nike Tiempo cleats are the most popular kicking cleats at the moment. There are infinite variations of design and leather. Pick the one that works the best for you.
Kicker in the picture shows how kicking shoe should fit – tight, simple and comfortable, with striking surface exposed.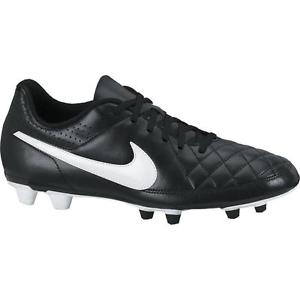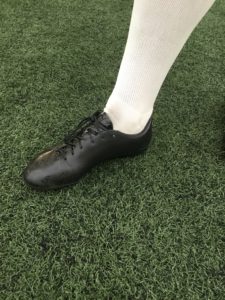 My coach does not like kickers. We don't practice special teams enough. What do I do?
This is a common question that I get when it comes to kicking in high school. It is becoming less and less common though because high school kicking is getting better and better
Your coach made kicking a low priority because he is used to not having good kickers and punters. If a high school coach cannot find a good kicker, he can't just replace that player, or coach him to kicking greatness. There are no kicking coaches on high school staffs. Whatever skills kicker brings, coach has to work with for the duration of the season. So the only thing a coach can do with a bad kicker is to minimize his role in a game plan
Solution is obvious…Get really good at kicking and your coach will want to utilize you. Kick well in practices, and you will get a chance to kick in games. If you can kick the ball into the end zone on kickoffs, you will usually get a chance to kick it deep. But if you can kick it to only between 5 yard line and a goal line, even though it is pretty good kick, it will be returned. And that means your coach has to play the strategy game by squibbing some, popping some short, etc. Your coach wants to win. If you give him a better chance at winning by kicking great, you will get to kick a lot.
You also need to help yourself and your team by helping your snapper and your holder. Look up some coaching tips for those guys. Give them feedback. Treat them well. They are usually not getting any coaching by the staff either.
My son is __ years old. Is he old enough to start kicking and/or attending kicking camps?
Every NFL kicker and almost every college kicker has a soccer background of at least several years. I suggest starting with youth soccer. It will develop muscles used in kicking motion. At young age, athletes need repetition and foundation more than they need detailed instruction. Soccer provides both of those.
As far as football kicking and specific kicking instruction, we have had athletes as young as 9 attend a camp, love it, and benefit greatly. But we also had athletes who were older come and struggle to keep up and stay focused. Main factor is not the age of the athlete. It is his desire to practice after he leaves the camp. 9-year old who loves to kick and enjoys practicing once per week or more on his own is ready. I have seen several very young campers stick with kicking, and start high school with impressive distance on their kicks, knowledge of mechanics, and mental maturity.
Video below is of Ben Von Gunten in 7th grade at the Michigan Winter Kicking Camp at Grand Valley State U. That shirt hanging loosely on him is a size Small. Ben showed flawless kicking mechanics. He is currently a freshman starting kicker on scholarship at Indiana Wesleyan University.
How do I get my leg stronger?
I remember asking a college kicker from Youngstown State University this question as a high school senior in 1996. I thought that I was great – putting kickoffs in the back of the end zone from the 40-yard line, averaging 65 to 70 yards. And then I watched him put few kickoffs through the goal post form the 35 yard line, making my kicks look very weak. His answer was, "I don't know…keep kicking and keep working out." 23 years later, after playing in college and NFL, and training numerous specialists and NFL Pro-Bowl kickers, I came to a conclusion that this college dude was right.
There are no shortcuts in building kicking power. You need to focus on two things. 1. Kick often – two to three times per week all year around. 2. Become the most powerful, explosive, balanced and flexible athlete that you can be. Your weight lifting and running training should resemble the training protocol of a track sprinter.
Let's imagine that there is a magic exercise for developing kicking power – something like tying a rubber band around your kicking ankle and swinging leg (every kicker tried something like this at some point). And let's imagine that it worked. All of a sudden, your kicking leg is powerful and your foot speed is fast as lightning. And you are smashing the ball. But what you don't realize is that the rest of your body has to be as strong as your kicking leg in order to maintain balance and counter the torque and foot speed that you are generating with your kicking leg. So if you neglect it with training, you will get hurt. So, long story short, forget about gimmicky exercises. Nobody has made it to the NFL because of that one exercise that they discovered. Just kick a lot and become a stronger athlete.
What weight room exercises are the best for kickers and punters?
Becoming stronger, faster, and more athletic will result into you becoming a more powerful and a more consistent kicker.
But there are also ways that you can work out to target the muscles in a way that is similar to kicking – making your training session more functional.
Whenever you can, do exercises that use one leg at a time versus both. Example would be doing one legged squats or lunges, instead of traditional squats.
Improve balance whenever you can. By balance, I am talking about joint stability – in your ankles, knees, hips. There are many tools like balance discs, balance boards, etc. that will make any exercise a bit more challenging. Use them. Joint stability is rarely addressed in strength training programs. You can really gain advantage over other kickers by firming up joints that make a difference in your kicking performance.
Improve core strength through serious of planks, leg raises and similar movements. Core weakness is very common in young kickers. You may think that you are kicking well in spite of it. But when you attempt to kick field goals off the ground instead of a field goal block, your kicks will not go as high.
We recorded a sample kicker/punter functional strength workout. It takes about one hour to complete with exercises ranging from intermediate to advanced. I suggest viewing it and using it as a starting point to developing overall balance and power to kick the ball far and straight.
Do I have the potential to be a great kicker? Or…Is it worth it for me to pursue the kicking thing?
If I was a salesman instead of a kicking coach, I would answer this question, "Yes, absolutely. I have seen thousands of kickers. And you are way ahead of your peers. If you keep attending my kicking camps and working with me, you are destined to earn a scholarship and make it to the NFL! You definitely have something special."
But I am a coach. And I prefer giving honest answers and training strategies instead of empty flattery.
Short (and honest) answer: It is impossible for me or anyone else to tell you with a degree of certainty how good you can become as a kicker?
I have seen middle school kickers pound 50-yard field goals with ease, and end up not kicking after high school. I have also seen kickers look absolutely hopeless at camps, never even getting the ball off the ground…and then show up one year later, and look natural and impressive.
Your natural ability, growth rate/timing, and your athletic background are fixed values in this equation. You got what you got by mother nature. Your athletic background is in your past. Nothing that you can do about those.
But all these are 100% in your control:
Increasing kicking power by kicking a lot
Increasing kicking power by becoming the most explosive, balanced and flexible athlete that you can be
Increasing kicking power through making every detail of your kicking form more efficient by doing drills
Working out smarter than everyone else. Figuring out how to spread out the training so that you can maximize the volume without getting hurt or burned out
Increase kicking consistency by challenging yourself mentally – bringing maximum focus to every practice and learning how your mind works
Outworking your competition by putting in more volume. Do more drills and kick more than everyone else.
In my experience, if a kicker wants to kick in college, and he starts practicing efficiently, and early enough – sophomore year or younger – he will be able to improve enough to accomplish that goal.
There are a lot of variables in your kicking journey that are in your control. We tend to assign too much value to fixed values. If you are trying to make it to the NBA, and your parents are barely 5 feet tall, I would tell you with confidence that your chances are slim. But kicking is open to all kinds of body types. So stop asking "experts" to determine your destiny. Start kicking and working on your skills, and see how far you can take it.
How much should I kick?
Short answer: As much as you can without getting physically or mentally burned out.
In the off-season, aim for at least 200 kicks in a week. Spread it out over 3 to 4 kicking days. I suggest not cramming it into two workouts unless you are doing punting and kicking. In that case, you will be asked to push your endurance limits at some point anyways. And punting is easier on the body than kicking. You can punt a lot before tiring out.
If you play another sport, you will most likely not be able to kick as much as someone who does not. But you can find few minutes per day to do some easy drills that will keep you improving. And you should be able to get at least one kicking workout per week. Simple rules to remember are…1. more kicks is better than less, and 2. some kicks are better than none, and 3. drills, drills, drills.
During the season, your number of kicks should remain about the same – about 200 per week. But keep in mind that your pre-game kicks, warm up kicks that you will take during the game, and your team practice will eat up most of those 200 kicks. The only time that you should be kicking on your own is on Sunday, Monday and Tuesday (just two of those three days). Keep the total number of kicks around 35 per day with maximum focus.
How do I get a shot at the NFL?
Short answer: Kick really well in college.
Unlike the move from high school kicker to a college kicker, where your promotional efforts are important in making you visible to colleges, if you are good enough for NFL, you will get your shot. Develop your skills in college, and most importantly, perform exceptionally in games, and NFL coaches will be calling you. They have access to every college's game film on their office computers. Your good games and bad games are at their finger tips. They will find you.
Agents, all-star game promoters, and other "players" in the game of NFL exposure are only useful if you had a mediocre college career that does not reflect your abilities.
If you are good enough for NFL, but you were unable to stand out with your game performances due to circumstances out of your control (bad snapper, protection, the coach did not give you enough chances, etc.), there are other ways. The most direct path is to attend a private tryout. There are kicking coaches/organizers who put on events where NFL coaches show up in person to watch kickers, punters, and snappers who graduated from college. The downside is that these events are expensive. You will spend a couple thousand dollars on an opportunity to hit 10-15 kicks few feet from NFL coaches. It is an amazing opportunity. But you should be ready to perform. I suggest getting evaluated and training consistently for several months. I personally made it to the NFL through one of these events. Coming out of a small division 2 school in 2o02, I did slip through the cracks because my statistics were not exceptional. Attending a private pro showcase was an amazing experience. I competed against top punters in the country beat them, and talked to NFL special teams' coaches. Before the event, nobody knew that I existed. Few months after the event, I was the starting punter for the Dallas Cowboys.
How do I remain calm in pressure situations?
Every kicker's worst nightmare is missing a big kick aka "choking". The spotlight is on you. Every single person attending the game or watching it on TV is looking at you. If you miss, everyone will see the kick, react to it in some way, and look back at you to see what you will do next. You will feel embarrassed that you let your teammates down. You are going to want to hide somewhere. If you imagine this scenario vividly enough, your heart is going to beat faster, your breathing will become quicker and shallower, your stomach will feel upset, you are going to start sweating more, etc. It is a physiological response of your body to a perceived threat that was created by your thoughts. But there is no threat. You imagined everything and did it to yourself.
Performing well comes down to keeping your mind in the present moment and focusing on tiny tasks and responsibilities that you are 100% in control off. When your mind starts wandering, don't panic. Just bring it back to the present moment. Your actions and focus should resemble your actions and focus that you usually do on kicks that carry less importance. Some practical tips…tap some easy kicks into the net, untie and retie your shoelaces, do some light jogging, take deep/slow breaths, visualize the sweet spot on your foot hitting the sweet spot on the ball, etc. Avoid any thoughts and actions that build anxiety – which usually comes from focusing on things that are out of your control – weather, what other people are thinking, players, trying to block your kick, expectations of coaches, etc. You can do only what you can do. Stay in the moment. Do the job to the best of your ability. And that is all that you or anyone else can ask of you.
How do I stay warm and ready to kick for the entire game?
Unless you play other positions you are going to have a lot of free time in between your game kicks. The big question is what can you do to stay loose and warmed up but not wear yourself out kicking too much into the net.
When the other team has the ball, the chance of your team scoring is low. So use this time to relax. Loosen up your shoelaces, have a sit, chat with a friend, etc. If there is an interception that gets returned for a touchdown and you have to kick an extra point, it is only an extra point. You should be able to put it through without warming up. And there will be a time for you to jog out on the field and take one or two practice swings on the way to the extra point spot.
It is up to you if you want to watch your defense or not. Most NFL punters and kickers are not very involved in the game. You have a job to do, which is to kick the ball consistently. If you get too worked up cheering your team on or too disappointed when things are not going well, your kicks will resemble the performance of your team. This is especially bad if you are a punter and instead of being a weapon when your team is struggling you end up contributing to the total collapse. So here is my advice, watch the game if you want but don't get too emotionally involved in it.
When your offense has the ball there is a chance that there will be a punt or a field goal.
As a punter my favorite thing to do is the tap drill…..somebody tosses me the ball underhand from about 7 yards away. I catch it, take my steps and while holding the ball lower than I usually would I lightly tap it back to them. I try to get a spiral and hit the person in the numbers. I would do this until it gets to be a third down. During the third down, I will go up to the kicking net and hit 2 punts into the net.
As a kicker, no-step taps are good…..place the ball on a tee that is the same height as your kicking block. Place your plant foot about 4 inches farther back than you would have it on a regular kick. Have someone stand about 5 yards from you. Without taking any steps, lightly tap the ball and try to hit your partner in the chest while achieving a good ball rotation. Give yourself a few bad holds on purpose – maybe 1 out of 4. You want to be prepared to make a good contact even if laces are in weird place or ball is leaning the wrong way. When your team gets closer to the field goal range take couple full kicks into the net.
Throughout the game try to keep your body temperature elevated by moving around. Avoid standing in one place or sitting for too long. Keep your mind focused on positive things like making a solid contact with a ball and visualizing the ball "jumping" off your foot and going straight.
If you have a bad kick, give yourself a time period to be upset about it – about a minute is good. Let's call it a "cleansing minute". Find a teammate, trainer, visitor, or anyone else who is on the sideline and is willing to hear you out. Tell them how upset you are about that kick and everything else that is going through your head. Once your "cleansing minute" is done, your thoughts and emotions about that kick are done as well.
I am having a hard time being consistent because my snapper and holder are not very good. What do I do?
As a kicker, your stats are posted after each game. People that were at the game and people that were not will judge you based on your numbers. Even your own coaches, when they look at the cumulative season numbers, will see that you were 8 for whatever on field goals and they will use that number when they talk to college scouts or media, or all-state team voters, NFL scouts, etc. What nobody remembers is that snap that bounced in the first game, and the one that was high in the homecoming game, and that time when holder missed a tee completely on a 40-yard attempt during the playoffs. You get my point. There are 10 other people involved in a play for which you will end up being evaluated on. So…
It is YOUR responsibility to make sure that the snapper and the holder know what they are doing, that they received enough practice, and that they are on the same page with you.
Every day that you have practice, ask them to come out 10 minutes early or stay 10 minutes after practice. They should work with you to get about…
    …15 quality game-focus kicks
1) Move the ball around the field, never take two kicks in a row from the same spot.
2)Take about 12 kicks within 90% of comfortable range (Example: if your field goal range maxes out around a 45 yarder, take 12 kicks that are closer than 40 yards and 3 that are in 40 – 45 yard range.)
3) Treat each kick as a game kick. What that means is that snapper and a holder are as focused as you are. Nobody is talking about their girlfriends or plans for the weekend. Have your snapper randomly place the ball while holder and you line up as you would in the game. From there on, try to move at the game speed and make the kick. There should not be any talking between the kicks that would not be a game-time talk. Example of a good talk: "There is a bit of a cross wind left to right". Example of useless, distracting talk," Man, it is freakin' cold today!"
4) Ask your holder to keep track of the field goals made. You should get the numbers from him at the end of the drill and keep track of them for the whole year.
If you do this 4 times a week starting with the two-a-days in August you will accumulate almost 200 high-quality kicks before you even start the season. By midseason, you will be functioning like a well-oiled machine.
Possible problem: Snapper or a holder are not on board with this drill idea.
Solution: Go to the head coach and say, "Coach, I would like to get more practice with the snapper and the holder. I think I would feel more comfortable during the games. Could you ask them to give me an extra 10 minutes of their time?" There is no coach in the world that will say no to your request for more practice time.